Back from Uganda, Africa.
The trip was amazing, lots of things to tell. My last "dual" entry didn't have many english reply, so I'm considering writing the trip report in spanish only.
If someone wants it in english, ask =P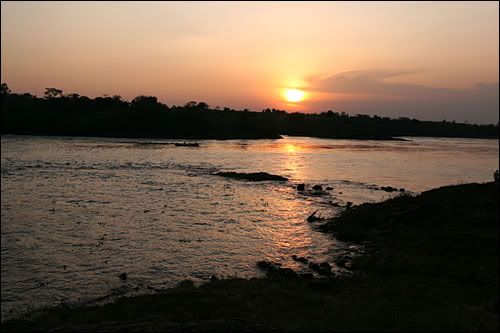 De vuelta del continente africano. El viaje ha sido increíble, una pasada. Tengo muchas cosas que contar y un diario de viaje repletito, aparte de mis 668 fotos. Como llevábamos todos cámara, haremos una selección de las mejores fotos y pondré esas por aquí. También, dado que es un viaje largo, creo que es mejor que vaya actualizando poco a poco en vez de hacer una entrada interminable.

El viaje de vuelta ha estado bien, aunque muy largo. Nos levantamos "ayer" a la 1,15 de la madrugada en Kampala, en Lourdel House, para prepararnos y salir hacia el aeropuerto. De eso hace ahora 32 horas. En el autobus de Madrid a Pamplona he dormido un par de horitas, pero el conductor ha decidido poner el aire acondicionado a tope y ni con toda la ropa que tenía en la mochila de mano podía quitarme el frío, espero no haberme cogido nada.

Voy a ver si desayuno y duermo un poco. Me iré poniendo al día poco a poco, abrazos y besos para todos y todas.
¡Alakara!